Scott Carley, known as The Change Energizer, is an expert in creating vision, teamwork and managing priorities. He rejuvenates leaders, sales professionals and entrepreneurs to FOCUS and Take Action on goals, priorities and team issues to produce head-turning results! Last year Scott presented 46 keynote and retreat sessions to 221 companies in 7 states. He is passionate about helping stalled and frustrated leaders get unstuck and moving forward!
Scott is the President of the Austin National Speakers Association, which is among the most innovative and exceptional chapters in the country producing popular and high-end speakers. From 2010-2015 Scott was the Central Texas Regional Director for Business Network International. He took his BNI Region of 34 to 45 chapters and to the top 2% internationally in growth, retention and referral revenue ($36 million annually). He was the Top National Producer in Membership Drives with a 70% closing rate.
Scott Energizes Change as a Certified VISTAGE Speaker and Trusted Advisor, motivating and challenging CEO, Key and Emerging Leaders. Since 2014, he has conducted half-day Change Energy Retreats to groups in 15 states.
Featured Topics

Conquer Your Sand Traps… It Made Tiger a Champion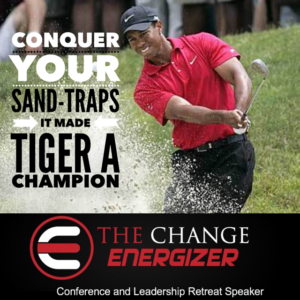 What keeps Business Owners and high-performance employees from achieving phenomenal, consistent results are their proverbial sand traps.
Tiger knew that 11% of the game is played from a sand-trap or in the rough. And because he conquered that, too… he often pitched out and onto the green very close to the hole.
The Sand-Traps are the hazards that take you off your best business game.
Distractions
Procrastination
Muddy Priorities
Conflict Resolution
Can't FOCUS
Name your biggest sand-trap!
FOCUS and taking action on your goals, priorities and team issues separate Champion performers!
Energized Leaders Create High-Performance Results

The Issue: Admitting and addressing the sand-traps that sabotage your business success.
Created for: Motivational Conference or Retreat / Sales Professionals / Financial Advisors / Leadership Team / Key Team Leaders
The Audience will leave with:
Confidence to tackle their hazards
Steps to overcome objections and push-back
A winning attitude and their personal winning icon
Focus on What Matters – Commanding Your Weekly Routine

Do you feel scattered, unfocused and overwhelmed? Is everyone else in control of your day but you?
The Change Energize will put you back in the driver's seat of your professional and personal life. Get clarity on your Critical Roles and Success Actions! You'll start to theme your days and make appointments with your predictable, success activities.
"You are what you do repeatedly; routinely! Excellence is not an event, it's a habit." Aristotle
NOTHING feels as good as being on track, on time and incredibly productive…Energized!
The audience will walk away with a simple system to identify their static and fluid priorities, how to get focused on what matters most and say "No" to distractions. They will have clarity on their roles and responsibilities, and specific tools that can be used to significantly reduce interruptions. Productivity will increase noticeably!
This is a very popular presentation with immediate success. I've done this around the country in dozens of metropolitan and rural settings.
Check the availability of this speaker
My team was discouraged and worn out! It's been a tough eight or nine months. Today was an amazing breath of fresh air! We feel encouraged and equipped to get more people in our pipeline and deals closed!
Melony C.Wells Fargo Home Mortgage
SIGN UP FOR SPEAKER TIPS AND UPDATES